Properties Panel
Purpose
The Properties Panel, to the right of the spreadsheet in the Report Designer, is where properties for accounting and other types of cells, as well as for Detail Areas, are set and edited. Note the small icon at top right of the panel. You can click the icon to hide and expand the panel.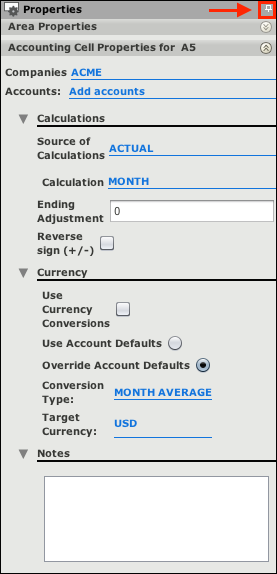 Definitions

Area Properties
: This section contains properties for the selected Detail Area.
Cell Properties:
This section contains properties for the selected cell.
Companies
: Displays the company(s) selected from the Cell Palette.
Accounts
: When you click Add Accounts, the Account Numbers dialog box appears, wherein you can look up account numbers by clicking the magnifying glass icon, typing them into the box separated by commas, or entering a range separated by a colon. Then Validate to make sure account numbers are correct before applying. Hold the Control key to select multiple account numbers.
Calculations
:
Source of Calculations
: The type of calculation for your report, Actual, Budget, and so on.
Calculation
: The period of your calculations, for example, MTD = month to date.
Adjustment
: Adjusts the calculation, or period, by the number entered. For example, if your calculation is MTD and you have an adjustment of -1, it will retrieve the previous month to date. If your calculation is YTD and your adjustment is -1, it will retrieve the previous year to date.
Reverse Sign(+/-)
: Reverses the positive/negative sign for your calculations.
Currency
:
Use Currency Conversions
: Determines whether or not currency conversion will be used for the cell.
Use Account Defaults:
The conversion type set in Account Conversion Setup for each account will be used.
Override Account Defaults
: Override any defaults that have been set and all balances for the cell will be converted based upon this setting.
Conversion Type
: There are several conversion types, each of which affect the conversion differently. A discussion of the various types is found in Reporting Suite's Advanced Financial Tutorial.
Target Currency:
The Currency to which you want the Account Defaults currency to be converted.
Notes
: You can add notes to individual cells to give your reader additional context for the data it contains. When a cell has a note, in either the Report Designer or Viewer, a yellow icon appears in the corner of the cell. When you rest the pointer on the cell, the note displays in the tooltip.